Ruach HaYam Shabbaton Retreat October 19, 2013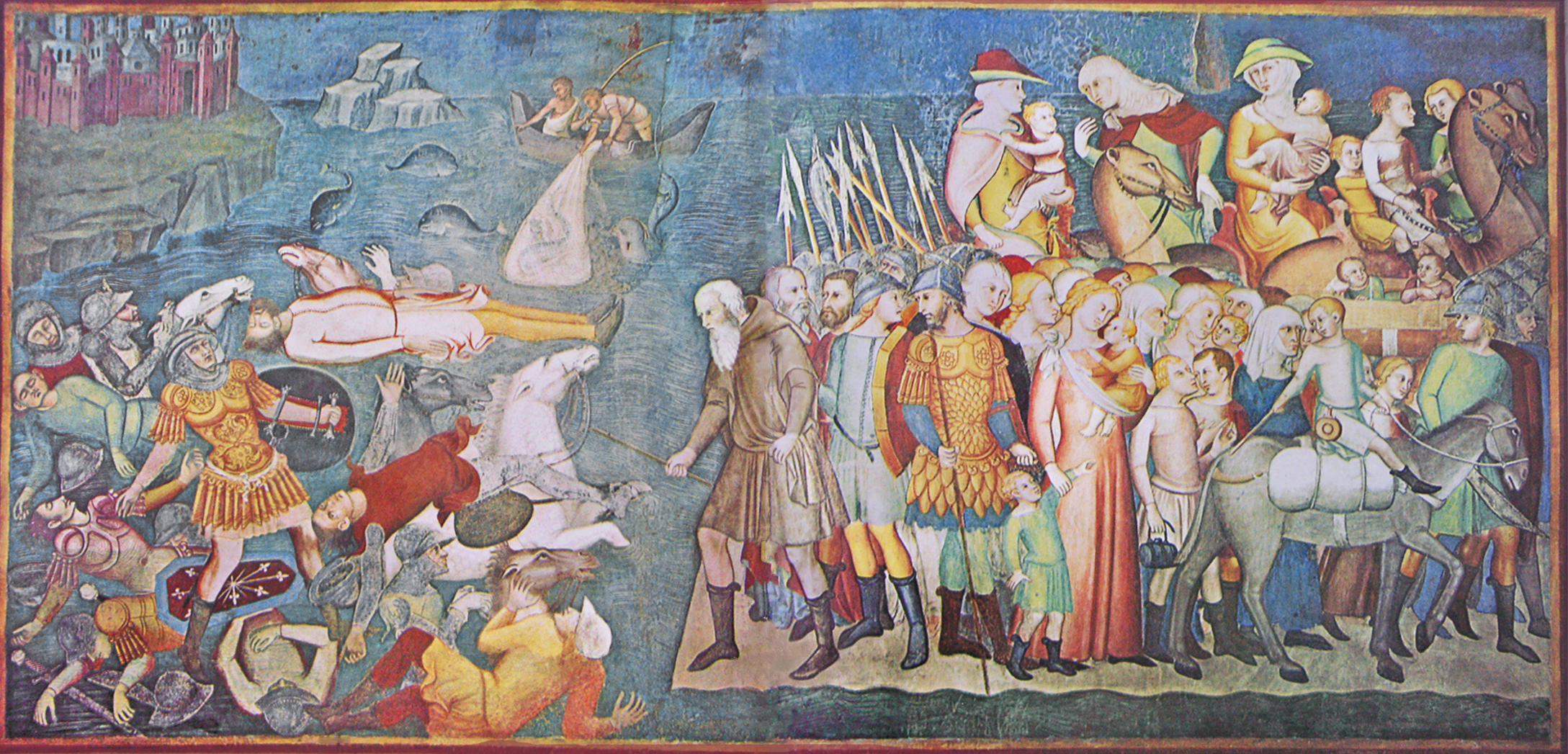 Collegiate Church of San Gimignano, Italy, 1356.  Israelites safely cross the Red Sea; Pharaoh and his troops are drowned.
Ruach HaYam, Congregation Am Tikva, and Keshet collaborate to present a full day Shabbat retreat for LGBTQ Jews and friends and family.  Refresh your spirit and make new friends in this fabulous day of egalitarian davening, creative and thoughtful workshops, and delicious food.  We close out the Shabbat retreat with Havdalah and live Klezmer music for dancing.  Retreat is directed by Penina Weinberg and co-sponsored by Congregation Eitz Chayim and StudywithPenina.
Shabbaton Retreat takes place at Congregation Eitz Chayim, 136 Magazine Street, Cambridge, MA 02139. Please note that pre-registration is required.  Fee for the full day, including two meals, is $36, with sliding scale options.  See registration form for details.
CLICK HERE TO REGISTER:  (you will be taken to Keshet webpage)
Please like and join the Ruach HaYam group on facebook to be updated.
Ruach HaYam is the Spirit of the Sea – is Miriam, Moses, and the mixed multitude, for the first time crossing over, transcending boundaries. There is a narrow and dangerous, but miraculous, parting of the sea – a point of transition between the known past (Egypt) and the unknown future (the desert and eventually the Land of Israel).
We are Jews (and friends and family) of all gender identities and expressions, rearranging and transcending our boundaries.  Ruach HaYam also calls to mind how near we are to the sea in New England.
Schedule
(see below for faculty and leader biographies)
Services
9:30 am to 11:30 – Led by members of Congregation Am Tikva
Noon to 1:30 pm
Workshops 
1:30 to 3:00 – Laurie Wolfe – Gender Detours, Destinations, and other True Stories
We picked a direction, we moved, we made changes, and now we are where? Are we in the place we thought we'd be? Are we truly in a different place? Are we where we're supposed to be, and if not, what would that look like? Do we know at this point? Have we picked a new direction (or changed a prior one)? Did God, HaShem, Shekinah, Adonai play a part in your journey? And has your relationship to spirit or ritual changed and in what ways?  We will explore these questions through both listening to stories and telling our own.
3:00 to 3:45 – break
3:45 to 5:15 – Marla Brettschneider –  Smashing Binaries:  Golda Meir
The Golda Meir you never knew and who queers need. In this workshop we will explore Golda Meir's radical legacy for us in a queer Jewish context. We will look at the ways that Meir smashed overlapping binaries central to Jewish life and thought in such areas as diaspora and queer theories. Participants might want to utilize Meir's intense life experience to explore together the many ways in which we are still constricted by binary gender expectations and to look at strategies to more constructively challenge and accept them with ourselves and each other.
Third meal
5:15 to 6:30
Havdalah
6:30 to 7:00 – Havdalah Service Leader – Jeremy Sher
7:00 to 8:30 – Live Klezmer music and dancing – Shana Aisenberg
Shana will be playing traditional Eastern European klezmer music on violin and other instruments for dancing. Shana invites other musicians to play and/or sing along. Feel free to bring an instrument and even your own songs. Some music notation will be available.
Shabbaton Retreat Director
Penina Weinberg
Penina Weinberg
is an independent biblical scholar who serves as president of Congregation Eitz Chayim in Cambridge, MA, and on the Boston Keshet community events committee. Her Masters Degree at Hebrew College concentrated on women-centered readings of biblical texts. Her studying and teaching focus a queer lens on the intersection of power and politics in the Hebrew Bible. Penina teaches at her synagogue, at other Boston area shuls, and at Nehirim and Keshet.
Partners
Congregation Am Tikva
Congregation Am Tikva
 began in 1976 to provide a safe and welcoming space for GLBT Jews to pray together and to socialize. It created its own gender-neutral prayerbooks and customs for Friday evening services, the high holidays, and special events, such as the Erev Pride Liberation Seder. Am Tikva is a mixture of genders and sexualities who come from a variety of Jewish backgrounds. The services reflect that variety. Am Tikva offers two Friday evening services a month, one more contemporary and one more traditional, as well as High Holiday services, and celebrations of other queer and Jewish holidays.
Keshet
Keshet
 is a national grassroots organization that works for the full equality and inclusion of lesbian, gay, bisexual, and transgender (LGBT) Jews in Jewish life. Led and supported by LGBT Jews and straight allies, Keshet strives to cultivate the spirit and practice of inclusion in all parts of the Jewish community. What began as a small, grassroots group working for change in the Greater Boston area, is are now a national organization with offices in the Bay Area and Denver, in addition to the national office in Boston
Faculty and Leaders (in order of appearance)

Laurie Wolfe

Laurie Wolfe is a writer, poet, performer, activist, speaker, trainer and an alternative healer of people and pets. Laurie has appeared in Bilicious Boston 2 and 3; Boundless: Body Verse, and the VDay Boston productions of The Vagina Monologues. She's emceed Trew Tales, Keshet's LGBTQ/Jewish Open Mic about our gender journeys. She's been a trainer for SpeakOut Boston and is on the MTPC (Massachusetts Transgender Political Coalition) Training Committee. She will be appearing in Bilicious Boston 4 at Club Café on November 8th and 9th.
Marla Brettschneider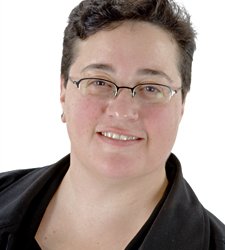 Dr. Marla Brettschneider is Professor of Political Philosophy at the University of New Hampshire with a joint appointment in Political Science and Women's Studies. She is founder and past Coordinator of Queer Studies and has long been serving as Coordinator of Women's Studies. Marla has written widely on Jewish politics, queer and other diversity matters. Her most recent book
The Family Flamboyant: Race Politics, Queer Families, Jewish Lives
(SUNY 2006) won an IPPY (Independent Book Publishers Award) in the GLBT category.  Her workshop today is from her current project on the revolutionary legacies of Jewish feminist political thinkers and activists.
Jeremy Sher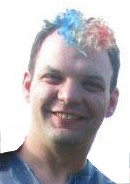 Jeremy Sher is a rabbinical student at Organic Torah Institute and is studying for his M.Div. at Harvard Divinity School.  He currently serves as Student Rabbi at Congregation Eitz Chayim.  He has taught extensively in the Jewish community in New England and Seattle, including at Keshet and Isabella Freedman.  He lives in Cambridge, where he is a dedicated Freemason and an avid cyclist.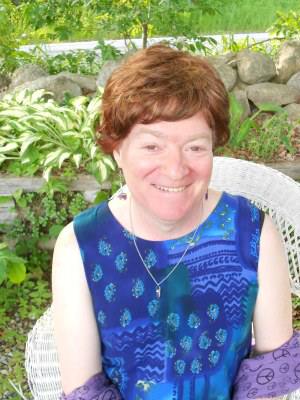 Shana Aisenberg
Shana Aisenberg is an acoustic multi-instrumentalist, composing, playing, recording and teaching diverse styles from traditional Appalachian, Celtic and New England contradance music to eastern European Klezmer, Balkan, blues, jazz and classical. She sings and plays a wide array of stringed instruments including fiddle, mandolin, bouzouki, acoustic guitar, banjo, fretted dulcimer, ukulele, and frame drums. Shana often performs with her partner Beverly Woods in the duo String Equinox. Shana has recently embarked on Cantorial studies, and is truly enjoying her return to being a redhead!