I visited the Museum of Fine Arts in Boston to see the painting Elijah in the Desert  by Washington Allston.  http://www.mfa.org/collections/object/elijah-in-the-desert-30844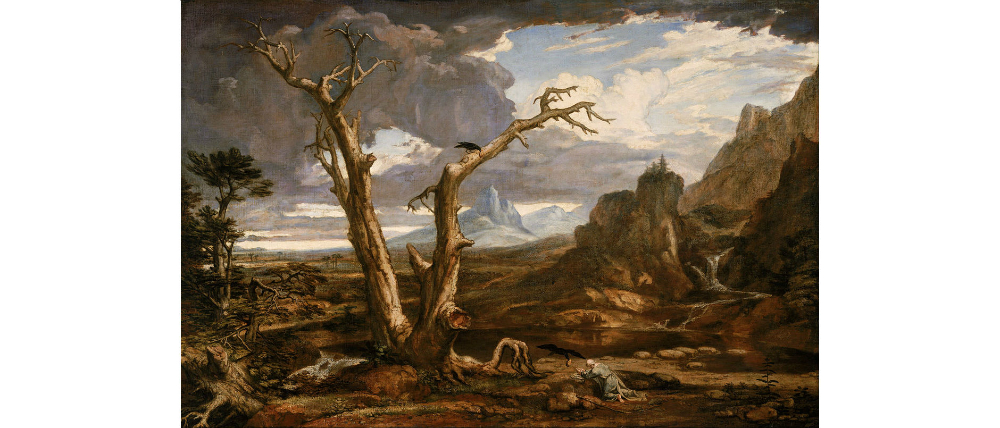 A great deal of my time is spent viewing digital photos and images.  In fact, I found the image of this painting through a google image search for Elijah.  As a small jpg, the picture is stunning enough – a stark portrayal it seems, of Elijah in the throes of despair.  I used this image as a banner for a study session I'm leading called "Elijah the Prophet: Zealotry, Despair, and Hearing kol d'mama daka."  By great coincidence, the original hangs in the MFA.  In fact, it was the first ever acquisition for the MFA. In 1870, Allston was such a highly regarded American painter that the donor of the painting suggested naming the museum after Allston.  I did not know this prior to seeing the painting.  I just thought it would be a good idea to see the original.
It's so easy (for me at least) to forget how powerful a painting is in the original.  I sat in front of Elijah for maybe an hour, looking from all angles, up close, far away, to the right and to the left, sitting, standing, letting thoughts and feelings run through me.   People passed through the gallery, mostly cruising past the room full of paintings, only infrequently stopping for more than a couple of minutes for anything.  So the first observation was:  how easy it is for humans to walk without taking in impressions, without feeding on the painter's laborious and careful work.  Similar to speed reading through novels, without enjoying the precise language crafted by the writer.
It was a treat for me to have the time to sit and absorb this one painting, and to have knowledge of the text behind it (1 Kgs 19).  Here is what I saw.   The sunlight breaking through over the mountains is striking and brilliant.  It appears to highlight Mt Horeb (Sinai) in the distance.  It breaks through the clouds of despair.  It lands brightly on Elijah's head as if to convey a message to him (from the divine) that all is not lost.  The raven, too, carrying food to Elijah, into the light, may be a beacon of hope and comfort.  Yet it's not clear in the painting if Elijah can see the raven, or the light, any more than it's clear in the text if Elijah can hear kol d'mama daka, that strange, stringent, quiet, ice-breaking voice of God.  The painting illuminates the central question of the text:  is Elijah grateful and learning, or is he unable to hear God's voice?  I kept wanting to get my eyes right in front of Elijah's face, but could not.  The painting was tantalizingly out of my reach, as is the meaning of the text.